fierce and deadly halloween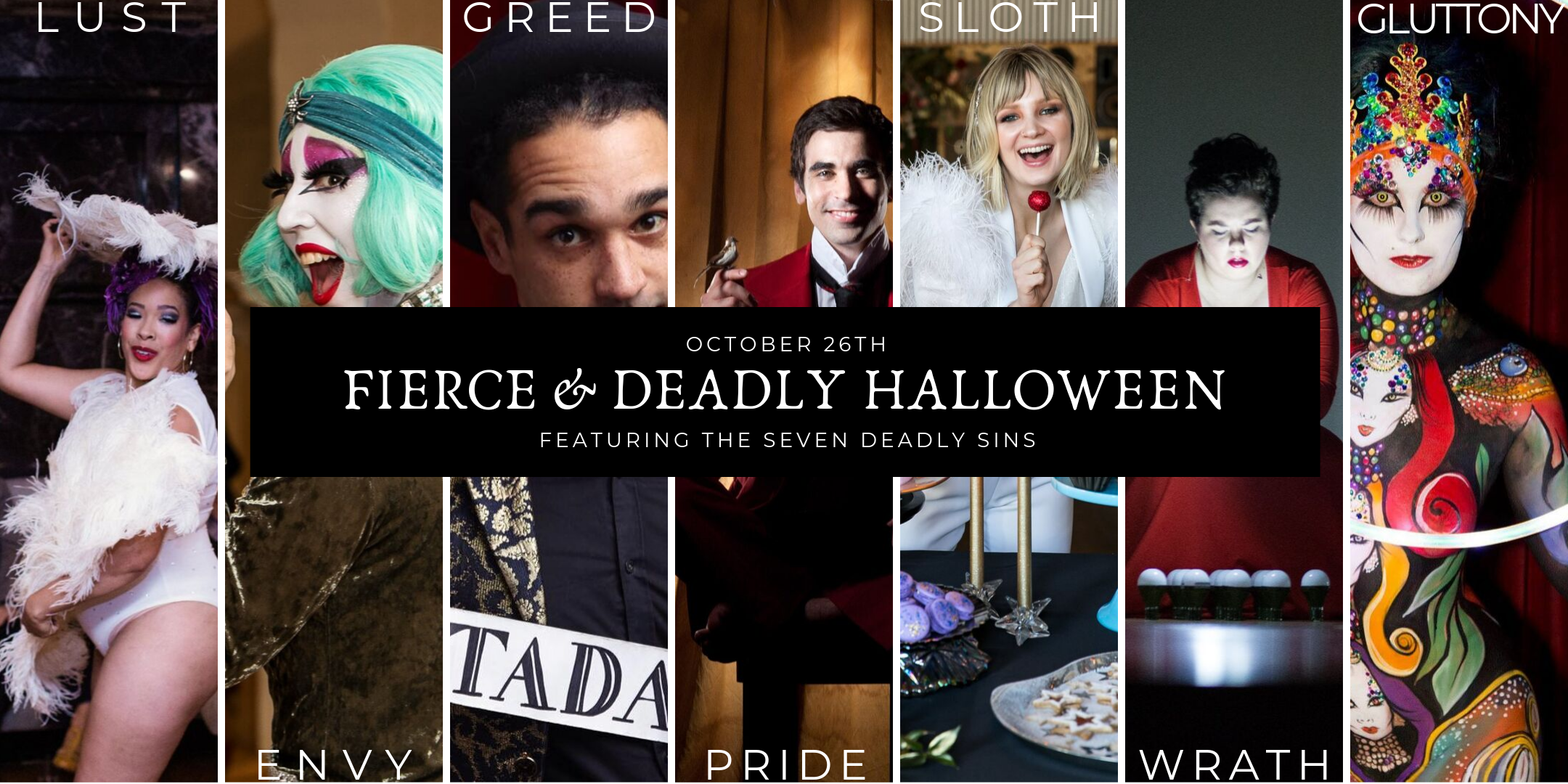 How do you sin? Are you lustful? Greedy? Envious of others? We spend most of our time trying to be good. We are told that excess is bad. Debauchery is evil. Indulgence is sinful. What is it about the forbidden that is so desirable? What is most forbidden to you?
After delivering the secret password at the door, VIP sinners will be greeted by Master of Ceremonies, PRIDE, your guide on this tour of the SEVEN DEADLY SINS. (Beware, he likes to talk about himself.) You'll then meet GREED at the bar who will mesmerize you with magic as you sip a crafted cocktail, and you'll find GLUTTONY relaxing on the table from which you will graze. LUST will enchant you with her stunning burlesque. As the rest of the debaucherous revelers gain entry, SLOTH will lure you into her lounge to luxuriate. WRATH will stun you with powerful operatic arias, and you'll be amazed by a fierce drag performance by ENVY.
frequently asked questions
Why can't I see an address? This event is taking place at a private members only club in Lincoln Park on Armitage. The Deadly sins cannot expose their whereabouts to the world or everyone would visit and become morally corrupt. If you choose to spend your evening with us, you will be granted a password and location to the party via email after purchasing your ticket.
Is there an age restriction?This is a 21+ event. All guests will be carded at the door and denied access without proper ID.
Do I have to dress as a Deadly Sin? No! Although you are welcome to, you can wear any kind of costume you like as long as it is safe and not offensive. Be mindful not to culturally appropriate please!
Is there parking? There is street metered parking. We recommend that you take Uber/Lyft or public transportation for this event. The location is close to the Armitage Brown Line. We ask you to drink responsibly and not drink and drive. If you need help finding a way home from the party you can ask the security at the front door.
Should I eat dinner before I arrive? VIPs will have plenty of chances to eat gluttonously during their early 90 minute access. Although we will have desserts and a late snack for Debaucherous Revelers (General Admission) guests, we recommend that you eat dinner before arriving.
I can't go anymore, can I get a refund? Unfortunately we can not give refunds, but you can exchange to someone else. Just let us know the name.
HIGHLIGHTS FROM OUR 2018 HALLOWEEN PARTY, THE LAST MIDNIGHT